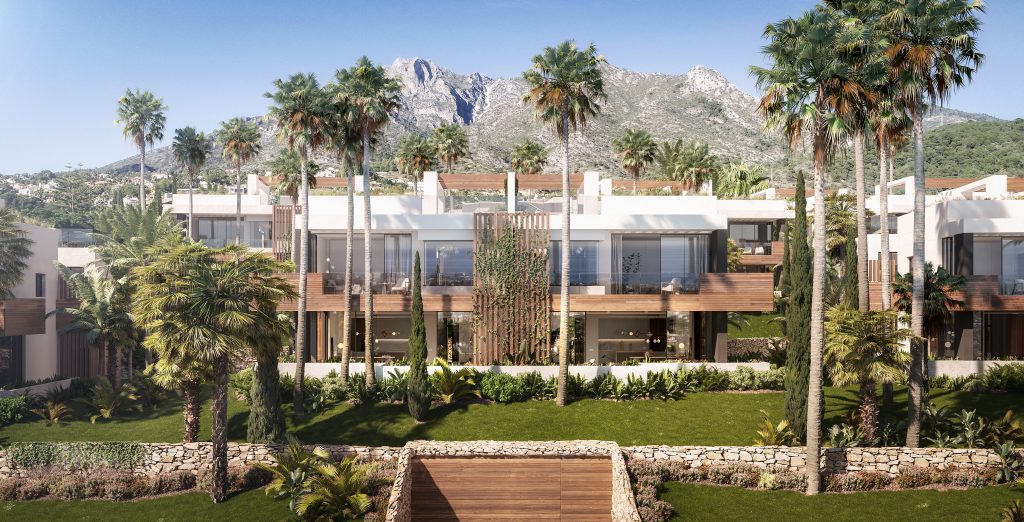 Semi-detached Villas – Le Blanc – Sierra Blanca – Marbella
Update 01-04-2020: Prices from 1.495.950€ – Ref: 7501
Building license: October 2019
Completion to be expected Q4 2021
22 designer villas in the distinguished location of Sierra Blanca, taking luxury to a whole new level
On a privileged site with spectacular views of the Mediterranean, Le Blanc is a dream come true. Just above Marbella's world famous Golden Mile and situated at the foot of the hills that bear its name, Sierra Blanca is one of the most exclusive residential areas of both the Costa del Sol and the whole of Europe.
Barely a few metres way, you will encounter natural parks that form part of the sierra that are ideal for taking a walk and enjoying the countryside. A magical place set in uniquely designed, green landscapes, these villas are quite simply spectacular. Let yourself be swept away by the allure of Andalusia and discover everything this magnificent housing development has to offer. In a world where privacy, discretion and an efficient service seem to be at odds with each other, at Le Blanc they are a reality. Here, wishes come true almost before they are made; whether through beautiful panoramic views, a private garden or the privilege of an incredible swimming pool, you will enter a world of unparalleled, meticulous customer care.
The breath taking views from the terrace are a unique asset to the Le Blanc experience that is carefully enhanced by the layout of the living rooms. They are the true heart of the house, waiting to be filled with life and joy.
The villa terraces are spacious, green and offer complete privacy. The main terrace is connected with the living room by a large glass door that can be easily pulled aside to enlarge the entertainment space. When you're ready to relax, kick back on chaise lounges and enjoy the stunning views.
Sometimes luxury has nothing to do with space or materials, not even with design. Sometimes to have a luxury bathroom, all you need is incredible views, like the ones you can find at Le Blanc. However, if, in addition to this magnificent vista of Marbella, you are presented with other idyllic elements, such as a bath overlooking the sea and a washbasin whose mirror shows a reflection of this incredible place, this bathroom's luxury is taken to a whole new level. There are certain things that we associate with a traditional kitchen: a love of pleasure and the desire for a simpler life. Le Blanc kitchens are iconic and eye-catching, in harmony with its owner's lifestyle and the architecture surrounding them, featuring sophisticated materials and high-end, functional appliances. The main bedroom is one of the most exceptional places in Le Blanc. It is a space where you can cut yourself off from the outside world and enjoy moments of privacy and relaxation. Depending on the villa, the spacious bedroom overlooks the sea or the garden and is filled with natural light from the balcony.
Sierra Blanca is a place to become reacquainted with yourself, a location that rekindles the spirit and activates a true sense of wellbeing. Let your curiosity lead you to explore everything this special corner of Spain has to offer, both in the vicinity of the villas and in the city of Marbella. Relax and enjoy these spacious, fabulously designed homes.
It is on the top floor where you can enjoy the best views of the sea, the mountains and the countryside surrounding Marbella. This solarium echoes Le Blanc's philosophy: a property is not only a meeting place, it is a dynamic, all-embracing space for everyone. The highest quality building and range of amenities combined with a level of personal service never seen before create a new level of luxury living.
Le Blanc is an attractive investment for high-profile clients and offers everything you can imagine to make your day-to-day life even more comfortable and special. Winter or summer, you will be able to enjoy the house's ambience to its fullest.
Call us for more information +34 952 830 195
or send us the email: