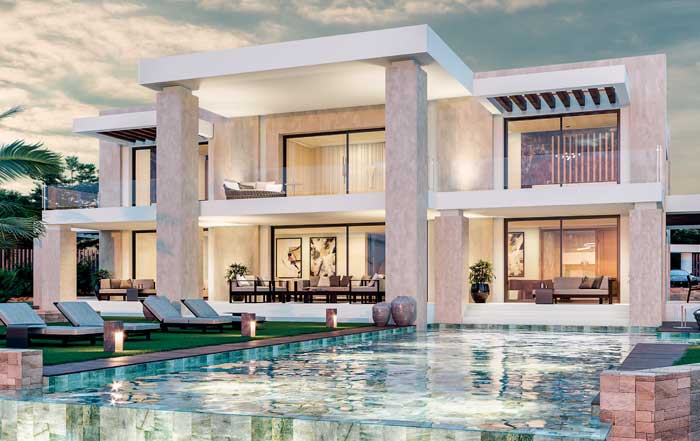 Villa Albinoni, Benehavis
Price 5.750.000€ : ref. 7510
SPECTACULAR UNIQUE ARCHITECTURE
MODERN LUXURY LIFESTYLE VILLA
Comforts of a large family estate in a prestigious address.
Perfect for luxurious family living and entertaining important guests.
Spacious open plan living with plentiful natural light provided by floor to ceiling windows
Spacious areas for all the toys in the basement.
Privacy and sea views.
Low running costs due to high levels of insulation and sustainable designs.
Plot: 2,024 m2
Total built area including basement: 976 m2
Terraces and roof terrace: 202.5 m2
Total built area: 1,401 m2
Execution: set to begin at the end of 2018 and finished in 16 month
As this is a project under construction, the information provided here may be subject to modifications imposed by the competent authority, as well as those that are motivated by technical or legal requirements made manifest during its execution. (RD 515/89)
FEATURES
Spectacular 3 story cylindrical entrance hallway which features a glass bridge, a suspended curved walkway in mid air, and helicoidal staircase.
Natural stone clad exterior wall details with backlighting.
Master bedroom suite of 140 m2 offering 2 walk in closets and independent his / hers master bathrooms.
5/6 bedroom suites, staff apartment.
Elevator.
10 car garage.
Illuminated pool and landscaped garden with sea views.
Natural stone floors.
Luxury finishes throughout.
High speed internet access in every room.
2 vehicular accesses to the property.
OPTIONAL CUSTOM FEATURES
Indoor lap pool.
Spa / Gym.
Wireless fully integrated home automation systems
(Domotics).
State of the art security and home protection systems.
Audio/Video in main rooms.
Personalized finishing.
Complete home decoration.
Property maintenance service.
222.5 m2 Solarium with lift access, WC and Jacuzzi.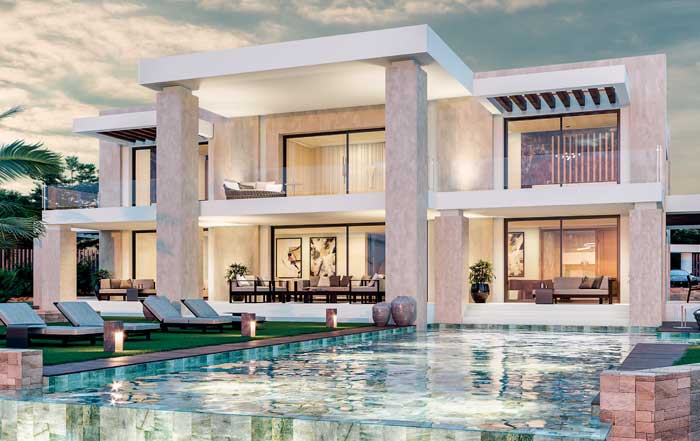 Villa Albinoni : Ref. 7510
Contact us: Tel: +34 669 09 1785