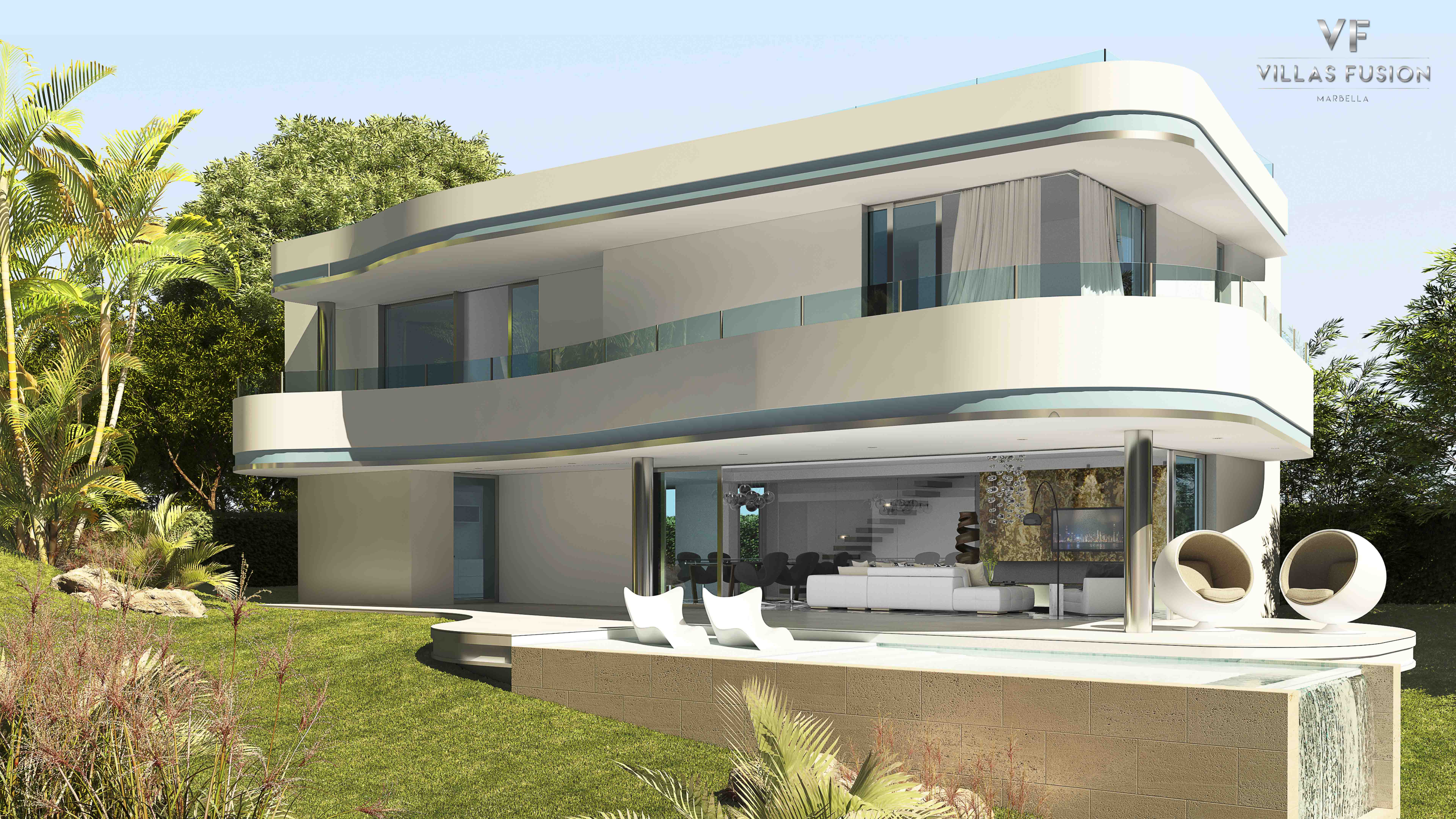 Villas Fusion – El Campanario Golf – New Golden Mile
Prices from 995,000€ – Ref: 7630
A range of villas in the peace and calm only 5 minutes from Puerto Banus
Villas Fusion is located in one of the most exclusive residential areas on the Costa del Sol, enjoying a natural environment from the garden of your home, opposite your favourite sport, surrounded by nature and many golf courses, with the best climate in Europe. It will be synonymous with quality and a unique lifestyle.
The avant-garde architectural lines of each of their styles will strengthen the location, allowing extraordinary sea, golf and mountain views, being 50 m away from the golf course and the club house, where you will be able to enjoy all its services: restaurant, coffee shop, Chill Out Bar, muscle-building and cardio hall, outdoor and covered swimming-pool, Jacuzzi, sauna, Hammam, facial and body beauty treatments, volleyball, tennis and padel courts, golf lessons and nursery. The result will be inimitable houses.
Besides, in Villas Fusion you will find 20 different golf courses within 7 km and a wide range of services: sea ports, shopping centres, beach clubs, supermarkets, hotels with spa, hospitals, bilingual schools and other places of interest like Sotogrande, Gibraltar, Málaga, Granada, Sierra Nevada, Córdoba, Cádiz and Sevilla.
Design and configure your own villa
A special project where customers will be able to design their home, personalising it with no limits up to the smallest details.
An architectural bet on flexibility thinking of new family models, a villa that does not only answer the current needs of its owners, but which can also be adapted to their future requirements. The home can change at the same time as its owner, adjusting to the specific needs in each stage of their lives.
An answer based on the concept of evolution that allows the owner to transform and personalise the home according to the needs that may arise in the future with far less effort than in a traditional house. To this end, Villas Fusion firmly bets on innovation, developing houses that are able to change in order to satisfy the future needs of their residents, considering the behaviors of each family.
All villas are detached and can be configured from 2 to 7 bedrooms or rooms which will be able to be assigned to several uses and from 4 to 6 bathrooms. With private swimming pool and 24 hours security.
There is a wide range of facade styles, arrangement drawings in every floor and luxury materials for you to choose as well as a lower ground floor with sunlight where you will be able to choose between different arrangements and uses: heated pool, Jacuzzi, gym, sauna, Hammam, screening room, multipurpose room, wine cellar, office, pantry, laundry and iron room and everything that you can imagine.
The project is designed to achieve energy and economic savings. First of all the building envelope has been optimised in a way that limits the loss or gain of cold or heat and an aerothermal HVAC system, which does not use fossil energy but comes from renewable sources, consuming 80 % of renewable energy and only 20 % of electricity, releasing less CO2 to the atmosphere.
There is a ventilation system that assures the quality of the indoor air with filters that eliminate the pollution and the allergens.
The villas respond to the concepts of adaptable evolution, high construction quality, interior design project and control of security systems, lighting and energy savings through an app installed in your tablet or smartphone.
Customers have at their disposal the technical documentation of the different arrangements that have been designed for their villas, scale drawings in CAD format and calculations of all the facilities of each arrangement on every floor. Facilities are conceived to allow this adaptability.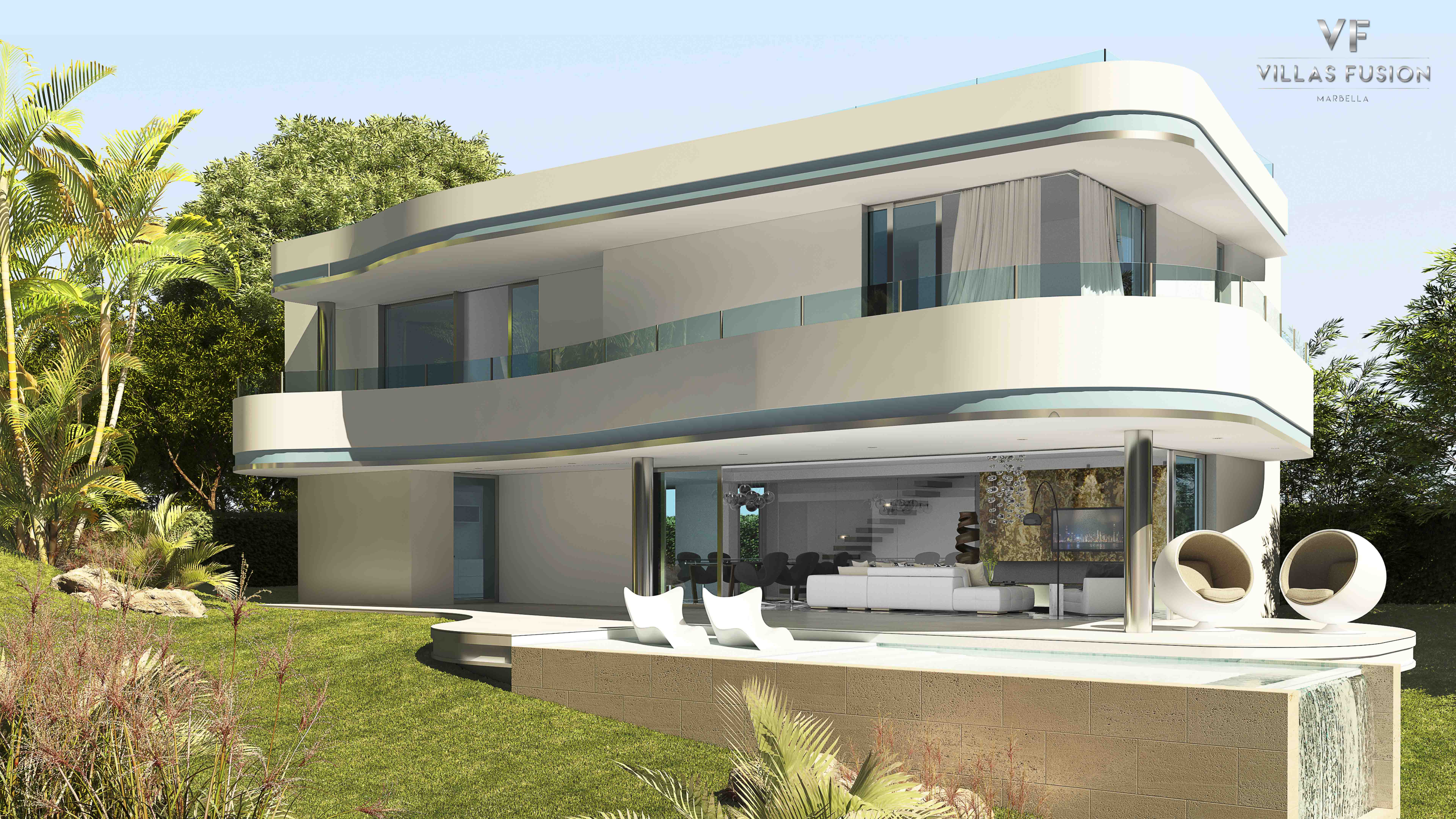 Call us for more information +34 952 830 195
or send us the email: