The Residences at Palo Alto
The architects of Palo Alto are Villarroel Torrico, a name that is synonymous with excellence and aesthetic perfection. Every apartment has ample terrace space and privacy with views of the Mediterranean Sea and generous interior spaces. Each home is fitted to the highest specifications to guarantee energy efficiency, noise insulation and use of the latest technologies in domotics and security. In addition, each home is customizable to suit your taste. From marble living room floors and wooden bedroom floors, to a specific tile in your bathroom. A selection of beautiful finishes and fittings are available including furniture packs and Jacuzzis for penthouses and selected apartment terraces.
Expected completion: autumn 2020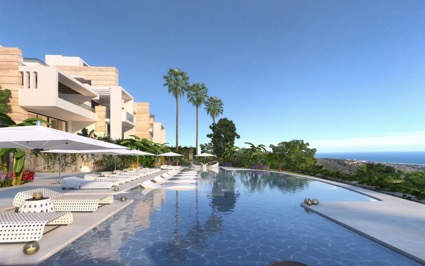 Los Pinsapos
20 beautifully appointed apartments and penthouses set on an elevated plateau with the most magnificent panoramic views of the Mediterranean Sea. Finished by renowned interior designer Pedro Peña and will feature spacious open-plan interiors that are customizable, expansive terraces, solariums and lush private gardens. This neighborhood offers a private outdoor cascading infinity pool, gym, spa, hamman and sauna.
Prices starting from 990.000€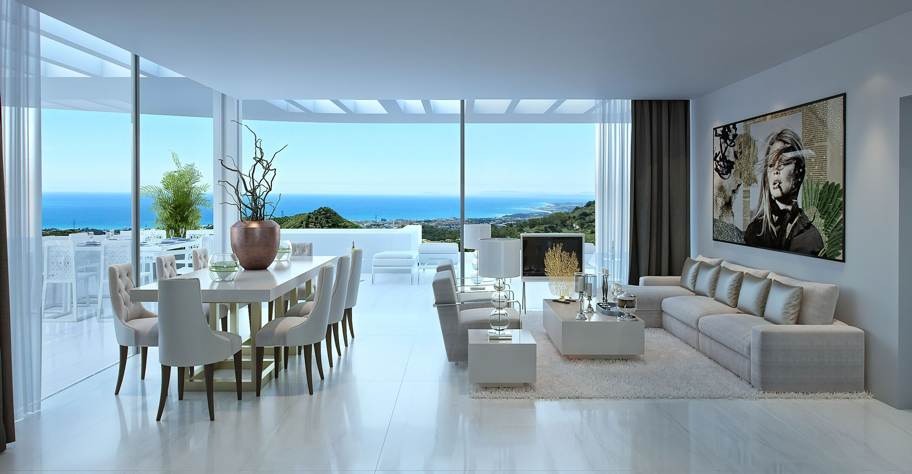 Las Jacarandas (living)
60 impressive contemporary apartments located in the north side of Palo Alto, featuring 2, 3 and 4 bedroom apartments and penthouses, all with stunning views. Set over six low rise buildings, these apartments will be finished by well-known interior designer, Eric Kuster and will also be customizable. Las Jacarandas features two private outdoor pools with kids play areas and gardens.
Prices starting from 425.000€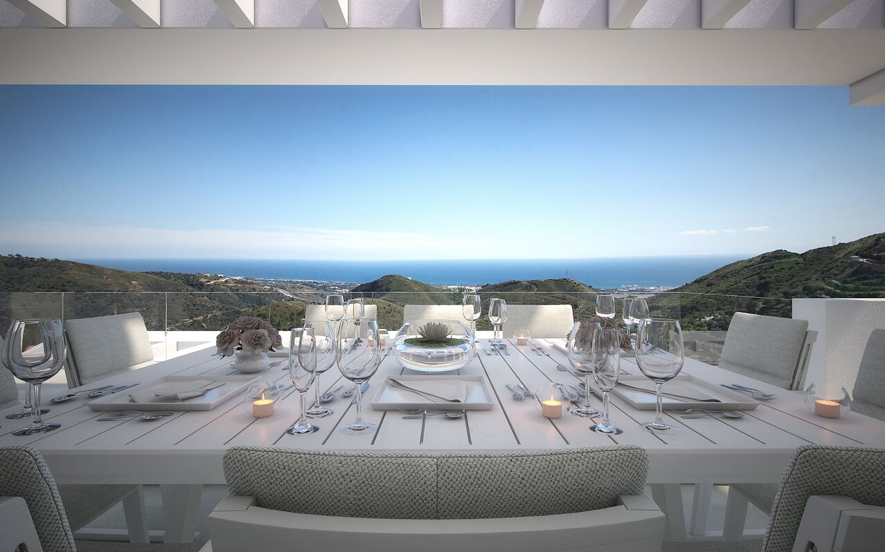 Los Almendros (terrace)
Stunning 2 and 3 bedroom apartments with generous outdoor and indoor living spaces with incredible finishes by Gunni and Trentino, which are customizable based on a hand-selected range of tiles and flooring. Los Almendros features panoramic views of the Andalusian Hills and Mediterranean Sea, two private outdoor swimming pools and play areas.
Prices starting from 460.000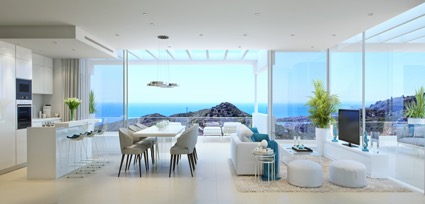 Los Eucaliptos (living)
40 customizable 1, 2 and 3 bedroom apartments. Oriented southwest with stunning sunset views of Gibraltar and the Mediterranean Sea. Featuring a tennis court, 2 swimming pools and rooftop area and surrounded by beautiful countryside.
Prices starting from 340.000€