Welcome to naturally modern living – Palo Alto

Discover a place of natural beauty, in the beautiful Andalusian countryside, minutes from Marbella and embedded in the mountains of Ojén. Palo Alto is an exclusive hilltop community enjoying uninterrupted views over the sparkling Mediterranean Sea. A place where likeminded people can appreciate the finer things in life, from horse-riding in the hills and relaxing in the infinity pool, to sipping cocktails on the terrace of your beautiful home. Palo Alto is being developed by leading global real estate investment firm Round Hill Capital and designed by prestigious award-winning architects Villarroel Torrico. Located in the municipality of Ojén just a few kilometers from Marbella, Palo Alto will offer a mix of contemporary, luxurious apartments and penthouses.
Gate Building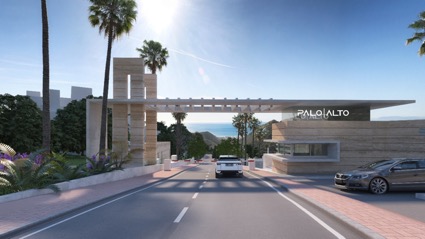 The development is a 5-minute drive from La Cañada shopping center and the motorway providing access to Málaga Airport in 30 minutes. The homes will set new standards in property development in the area and are ideal for a first or second residence The location for the project is impressive. Offering panoramic views of the surrounding mountains and the Mediterranean Sea it is one of very few developments in such close proximity to Marbella to offer views of this kind. Although residential developments with similar characteristics already exist to the West of Marbella, these are located past Benahavís, some 20 kilometers north-east of Marbella.
A masterplan like no other. At Palo Alto you will find everything you need including: concierge services, a world-class health club, horse-riding, delicious food, a farmer's market, tennis courts, pools, a social club, kids' club, a shared workspace perfect for collaboration, and endless space to enjoy the natural beauty of the Sierra de la Nieves.
Health Club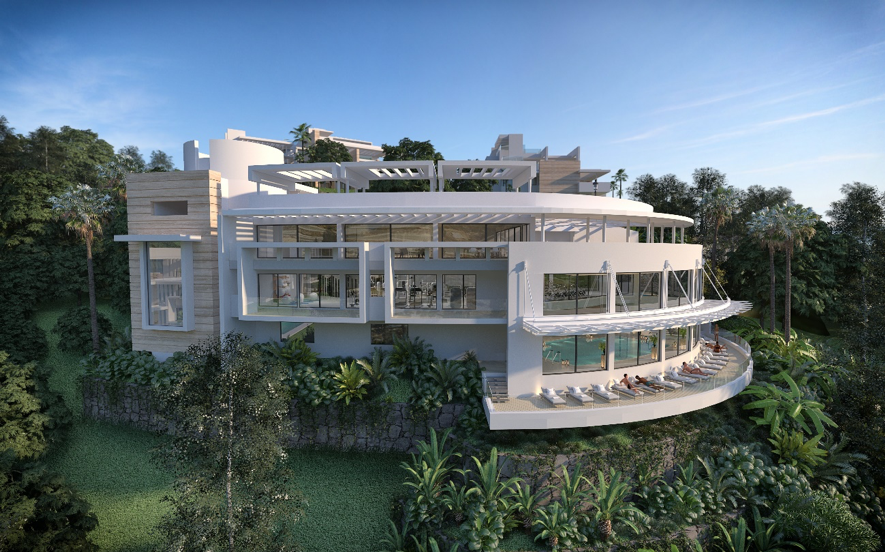 STATE OF THE ART DESIGN AND ARCHITECTURE
The Residences
The architects of Palo Alto are Villarroel Torrico, a name that is synonymous with excellence and aesthetic perfection. Leading the field regionally, nationally and internationally for 40 years, Villarroel Torrico have designed the residences and amenities considering your every need around the striking beauty of the Sierra de la Nieves hills. Every apartment has ample terrace space and privacy with views of the Mediterranean Sea and generous interior spaces. Each home is fitted to the highest specifications to guarantee energy efficiency, noise insulation and use of the latest technologies in domotics and security. In addition, each home is customizable to suit your taste. From marble living room floors and wooden bedroom floors, to a specific tile in your bathroom. A selection of beautiful finishes and fittings are available including furniture packs and Jacuzzis for penthouses and selected apartment terraces.
RESIDENTIAL OFFERINGS THAT PROVIDE LUXURY, ARCHITECTURAL EXCELLENCE AND THE NATURAL BEAUTY OF THE COUNTRYSIDE.
Los Pinsapos
20 beautifully appointed apartments and penthouses set on an elevated plateau with the most magnificent panoramic views of the Mediterranean Sea. Finished by renowned interior designer Pedro Peña and will feature spacious open-plan interiors that are customizable, expansive terraces, solariums and lush private gardens. This neighborhood offers a private outdoor cascading infinity pool, gym, spa, hamman and sauna.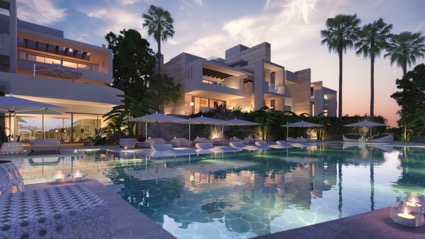 Las Jacarandas
60 impressive contemporary apartments located in the north side of Palo Alto, featuring 2, 3 and 4 bedroom apartments and penthouses, all with stunning views. Set over six low rise buildings, these apartments will be finished by well-known interior designer, Eric Kuster and will also be customizable. Las Jacarandas features two private outdoor pools with kids play areas and gardens.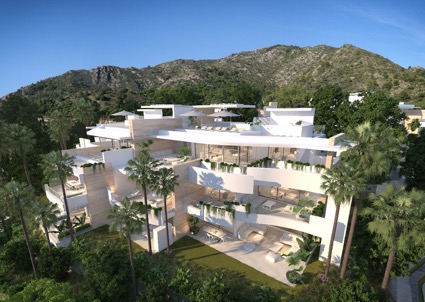 Los Almendros
Stunning 2 and 3 bedroom apartments with generous outdoor and indoor living spaces with incredible finishes by Gunni and Trentino, which are customizable based on a hand-selected range of tiles and flooring. Los Almendros features panoramic views of the Andalusian Hills and Mediterranean Sea, two private outdoor swimming pools and play areas.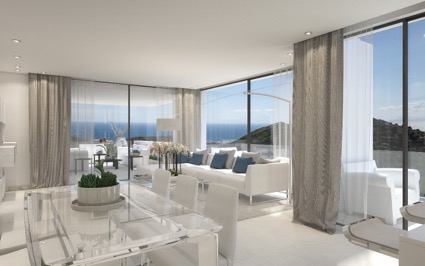 Los Eucaliptos
40 customizable 1, 2 and 3 bedroom apartments. Oriented southwest with stunning sunset views of Gibraltar and the Mediterranean Sea. Featuring a tennis court, 2 swimming pools and rooftop area and surrounded by beautiful countryside.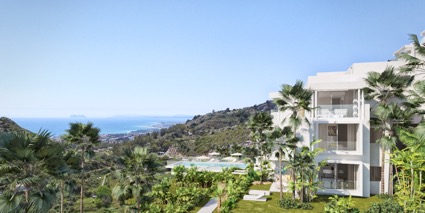 THE COLLABORATORS DEVELOPER
Founded in 2002, Round Hill Capital is a leading global real estate investment firm with a proven track record of acquiring, managing and developing high quality residential accommodation. Round Hill has invested €6.0bn in European real estate assets and has acquired/developed over 100,000 residential apartments across Europe. Round Hill is currently one of the largest foreign private landlords in the Netherlands and CEE region, and in addition owns and operates one of Europe's fastest growing and leading student housing companies called Nido Student Living. Palo Alto is a highly important development in Spain for Round Hill Capital, who will continue to invest long term in the Costa del Sol region. Matías Villarroel, the Managing Director of Round Hill Capital in Spain, is also an architect and developer of Palo Alto. He directed his family architecture business for many years before joining the Round Hill team. Matías works together with the lead architects at Villarroel Torrico to ensure that the architectural vision of Palo Alto.